Canine Sniffles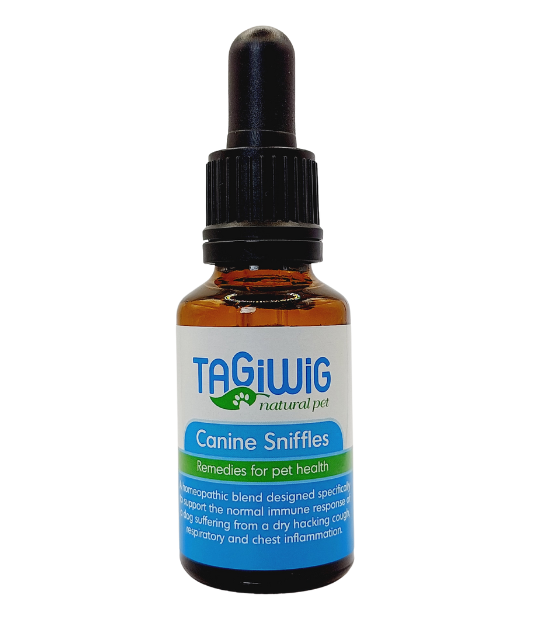 Kennel cough remedy for dry hacking cough, respiratory and chest inflammation in Dogs
Kennel Cough in Dogs             
A natural kennel cough remedy. Canine Sniffles is a homeopathic blend designed to support the natural immune response of an animal suffering from kennel cough, a dry hacking cough, and respiratory and chest inflammation.
Dogs get coughs for many reasons; this can be from going to the kennels and contracting kennel cough, coming into contact with other dogs that are carriers while out and about, or just picking it up from the environment. Either way, it can be an unpleasant condition for the animal and owner. Canine Sniffles assist the body in its immunity and supports it in resolving quickly.
It will also assist with other chest inflammation and respiratory problems.
See our write-up in Health A-Z for more information about Kennel Cough.
All our remedies are designed and developed by a qualified Animal Homeopath and Herbalist.
Natural Pet is an NZ-owned and operated small business handmaking homeopathic remedies for animals. All our remedies have a shelf life of 5 years.
Available in a 25ml or 50ml Bottle
Canine Sniffles come in a liquid form, as we find this is the easiest way to administer. 
As per all homeopathy, it can be put straight into the mouth of the animal, making sure not to contaminate the dripper. You can do this by adding the drops to a teaspoon, lifting the lip, and place in the mouth. But we realise this is not always an option, so you can add to their food, and we find this is just as effective.
Dosage: 4 drops three times daily for up to 14 days.
How long will a 25ml bottle last: (based on seven days as one course)
Dogs  4.5 courses per bottle
All instructions are on the bottle.
General Disclaimer: Our remedies are designed to support the natural immune system of your pet and animal. We do not claim to treat, medicate or cure any health conditions. If you are worried about your pet or feel they are in pain or suffering, don't hesitate to get in touch with your veterinarian.
Homeopathic ingredients:
Kennel cough nosode, Spongia, Drosera, Bryonia, Eurp perf and Echinacea
Preserved in a mild alcohol base.  Alcohol / Spring water
You can expect your order to arrive quickly and in excellent condition. 
We offer FREE DELIVERY within New Zealand on all orders over $72. 
Orders below this will incur a $4.00 shipping charge
Delivery Times
We know that you may be ordering your remedies for a sick furbaby and want your remedies to arrive yesterday.
So we pinky promise that all orders received by midnight on weekdays will be dispatched that day. 
We use Courier Post as our delivery option, which is very good at overnight deliveries. So you can expect your order to arrive the next business day, but as with everything now, things can be delayed, so that it may take a few more days. Rural deliveries may take an extra day or two.