Liver Tonic for horses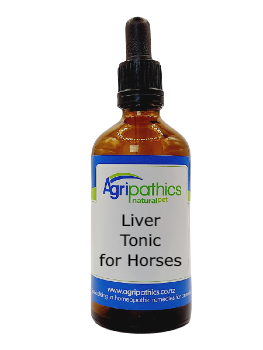 Impaired liver function, general ill health, digestion and metabolic problems in horses
Liver Tonic
A natural liver support. Liver Tonic is a homeopathic blend designed specifically to support the normal immune response of a horse suffering from impaired liver function, general ill health, digestion and metabolic problems.
The liver is the one organ in the body which can regenerate itself.  With the impact of today's environment including processed foods, vaccinations, chemicals, antibiotics and everyday toxins that our horses come into contact with, it is no wonder that their livers get over-loaded.  All horses will benefit from a liver support at least once a year.
Liver Tonic is designed to help support the normal immune response of the liver with its filtering of the blood, production of bile and elimination of toxins from the body.
All our remedies have been developed by a fully qualified Animal Homeopath and Herbalist.
Handmade in NZ.     All remedies have a shelf life of 5 years.
Available in 100ml, 200ml, 500ml
Liver tonic comes in a liquid form, as we find this is the easiest way to administer. 
Homeopathic remedies can be either given straight into the horses mouth or put into the feed or water, any of these methods are just as effective. If you are putting into the mouth, please make sure not to contaminate the dropper, putting on to a teaspoon or other utensil may be a better option.
Dosage:  4 drops into mouth, food or water once daily. For optimum results should be used for at least 6 weeks. 
A bottle should last a minimum of 4 months.
The remedy can also be given as a long term daily dose and also trough treated.
All instructions are on the bottle.
General Disclaimer: Our remedies are designed to support the natural immune system of your pet and animal.  We do not claim to treat, medicate or cure any health conditions.  If you are worried about your pet or feel they are in pain or suffering please contact your veterinarian.
Homeopathic Ingredients:
Berberis vul, Calc sulph, Chelidonium, Kali mur, Lycopodium and Nat sulph 
Preserved in a mild alcohol base.  Alcohol / Spring water