Lammi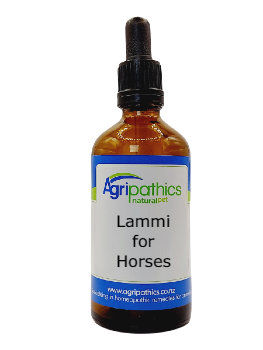 Laminitis in Horses
A natural remedy for Laminitis in horses.  Lammi is a homeopathic blend designed specifically to support the normal immune response of a horse suffering from Laminitis. 
Laminitis or Founder is a metabolic disease of a horse that affects mainly the laminae of the foot.  And as many horse owners know it can be a very debilitating and often fatal disease for horses.  Lammi helps the body's natural immune response to this disease.
See our Health Pages for more information about Laminitis.
All our remedies are designed and developed by a qualified Animal Homeopath.
Natural Pet is an NZ-owned and operated small business handmaking homeopathic remedies for animals. All our remedies have a shelf life of 5 years.
Available in 100ml (glass bottle + dropper), 200ml and 500ml (plastic bottle + cap)
Lammi comes in a liquid form, as we find this is the easiest way to administer to horses.
Homeopathic remedies can be put straight into the mouth of the horse or put into the feed or water. Any of these methods is just as effective. However, if you are putting it into the mouth, please ensure not to contaminate the dropper. Putting it on a teaspoon or other utensil may be a better option.
Dosage: 4 drops into the mouth every 30 minutes for up to 4 doses. It can then be used 2-3 times daily till better.
Based on the above administration being one course, the 100ml bottle should last you approximately 18 courses.
The remedy can be given as a long-term daily dose and can also be put into the water trough.
All instructions are on the bottle.
General Disclaimer: Our remedies are designed to support the natural immune system of your pet and animal. We do not claim to treat, medicate or cure any health conditions. If you are worried about your pet or feel they are in pain or suffering, don't hesitate to get in touch with your veterinarian.
Homeopathic ingredients:
Apis, Arnica, Belladonna, Bellis pet, Berberis vul, Calc flour, Calendula, Eup perf, Hypericum, Lycopodium
Preserved in a mild alcohol base.  Alcohol / Spring water