Leaky Gut Kit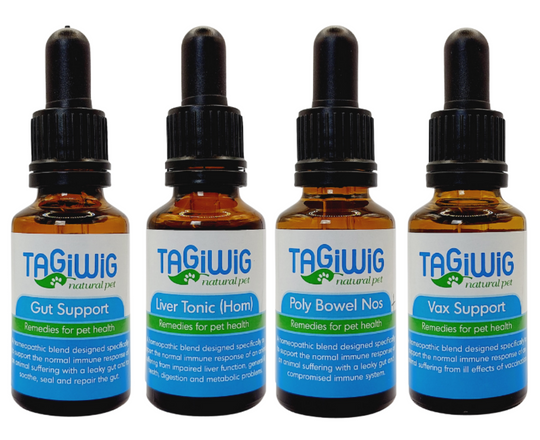 Repair a leaky gut in cats and dogs
Leaky Gut Kit for cats and dogs
Leaky Gut Kit has homeopathic blends explicitly designed to support the normal immune response of a dog or cat suffering from ill health associated with a leaky gut.
A leaky gut can cause many health problems in cats and dogs. This can include skin disease or issues, GI or digestive problems, food allergies, yeast infections, ear infections, autoimmune diseases, and many other health disorders.
A leaky gut happens when the lining of the small intestine becomes damaged, letting undigested food particles, toxins, and bacteria seep into the bloodstream. These particles can cause the body to have an autoimmune response that causes inflammation and allergies, resulting in many of the health disorders mentioned above.
Our Leaky Gut Kit is developed to make it easy for you to help repair your pet's gut system and help them on the way back to good health.
The four remedies in the Leaky Gut Kit
Vax Support – this assists in removing vaccine toxicity and helps to repair damage

Liver Tonic (Hom) – to support and cleanse the liver and assist the body with the safe removal of toxins trapped there

Poly Bowel Nos – to support and detox the gut and encourage the good bacteria balance

Gut Support – to soothe, assist and heal the gut
A complete instruction sheet will be included with the kit to help you navigate the detox and rebuilding of your pet's gut.
Our fully qualified in-house Animal Homeopath has developed this kit.
Natural Pet is an NZ-owned and operated small business handmaking homeopathic remedies for animals. All our remedies have a shelf life of 5 years.
All remedies come in 25ml bottles.
Leaky Gut Kit comes in a liquid form; this is the easiest way to administer it to animals. It can be put straight into the mouth of the animal, making sure not to contaminate the dripper. You can do this by adding the drops to a teaspoon, lifting the lip, and place in the mouth. But we realise this is not always an option. So you can add the drops to their food, which is just as effective.
It consists of four-remedy in the kit. Instructions are on each bottle. Also, you will receive an instruction sheet included with each kit.
General Disclaimer: Our remedies are designed to support the natural immune system of your pet and animal. We do not claim to treat, medicate or cure any health conditions. If you are worried about your pet or feel they are in pain or suffering, don't hesitate to get in touch with your veterinarian.
Homeopathic Ingredients:
Vax Support: Silica, Thuja
Liver Tonic (Hom): Berb vul, Calc sulph, Chelid, Hydr, Kali mur, Lycop, Nat sulph
Poly Bowel Nos: Morg Bach, Morg Pure, Morgan Co, Prot Bach, Gaert, Morg Gaer, Syc Co, Dys Co, Bac No. 7, Mutab
Gut Support: Alfalfa, Aloes, Calend, Hydras, Mag mur, Podo
Preserved in a mild alcohol base.  Alcohol / Spring water