Horswrm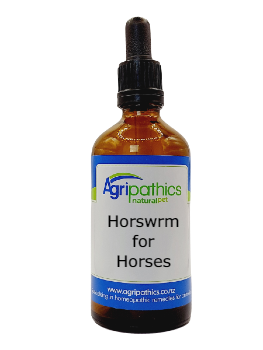 Internal parasite and worm complaints in horses
Internal Parasite complaints in horses
A natural worming remedy. Horswrm is a homeopathic remedy explicitly designed to support the immune response of a horse suffering from internal parasite complaints.
Worms, internal parasites and other organisms will always be something our horses and all animal's digestive system will have to deal with. However, a healthy animal with the proper diet, exercise and lifestyle will be in a better position to keep the resident population of parasites at a level that won't compromise their health. At Natural Pet, we look to support the whole body and digestive system with our Horswrm remedy.
Horswrm covers all internal parasites your horse may suffer, including:- Small and large Strongyles, Tapeworm, Roundworm, Pinworms and Bot fly.
See our write-up on our Health Pages page for more information on Worms in Horses.
A fully qualified Animal Homeopath has designed and developed all our remedies.
Natural Pet is an NZ-owned and operated small business handmaking homeopathic remedies for animals. All our remedies have a shelf life of 5 years.
Available in 100ml (glass bottle + dropper), 200ml and 500ml (plastic bottle + cap)
Horswrm comes in a liquid form; we find this the easiest way to administer it to your horse.  
Homeopathic remedies can be given straight into the horse's mouth or put into the feed or water. Any of these methods is just as effective. However, if you put it into the mouth, please ensure not to contaminate the dropper. Putting on a teaspoon or other utensil may be a better option.
Dosage: 4 drops into the mouth. Repeat once daily for 4 days. The best time is over a full moon. Repeat monthly. 
A bottle should last you a minimum of 6 months.
The remedy can also be given as a long-term daily dose and trough treated.
All instructions are on the bottle.
General Disclaimer: Our remedies are designed to support the natural immune system of your pet and animal. We do not claim to treat, medicate or cure any health conditions. If you are worried about your pet or feel they are in pain or suffering, don't hesitate to get in touch with your veterinarian.
Homeopathic Ingredients:
Abrotan, Chelone al, Chenopod, Cina, Felix mas, Grantum, Kousso, Santininum, Bot fly nosode, P Stronguylus, Strongorloid 
Preserved in a mild alcohol base.  Alcohol / Spring water