BladderTone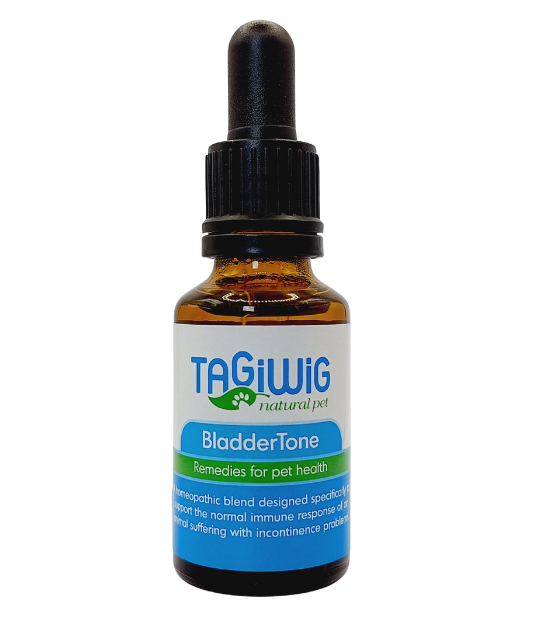 Urinary incontinence in dogs and cats
Incontinence in Dogs and Cats
For urinary incontinence in Dogs and Cats, our BladderTone is a homeopathic blend designed specifically to support the normal immune response of a cat or dog suffering from urinary incontinence problems.     
Many animals suffer from urinary incontinence, which can be caused or recognised as spay incontinence, hormonal, obesity, or just old age. It affects mostly females, and the most common cause is the weakening of the sphincter muscles of the bladder. BladderTone has had much success in assisting an animal with this condition. It also has helped male dogs with leakage problems.
If there is excessive urination, urine is blood coloured, your pet is drinking excessive water, or you are worried about your pet. You should seek veterinarian advice, as it may be another more serious health issue.
See our write-up in Health Pages for more information about Incontinence in Cats and Dogs.
All our remedies are designed and developed by a fully qualified Animal Homeopath and Herbalist.
Natural Pet is an NZ-owned and operated small business handmaking homeopathic remedies for animals. All our remedies have a shelf life of 5 years.
Available in a 25ml or 50ml Bottle
BladderTone comes in a liquid form, as we find this is the easiest way to administer.
It can be put straight into the mouth of the animal, making sure not to contaminate the dripper. You can do this by adding the drops to a teaspoon, lifting the lip, and place in the mouth. But we realise this is not always an option; you can add drops to their food.
Dosage: 4 drops 2-3 times daily for up to 7 days.
How long will a 25ml bottle last: (based on seven days as one course)
Dog & Cat: 4.5 courses per bottle
All instructions are on the bottle.
General Disclaimer: Our remedies are designed to support the natural immune system of your pet and animal. We do not claim to treat, medicate or cure any health conditions. If you are worried about your pet or feel they are in pain or suffering, don't hesitate to get in touch with your veterinarian.
Homeopathic ingredients:
Causticum, Damania, Equestium, Ferrum phos, Kali phos, Sepia
Preserved in a mild alcohol base.  Alcohol / Spring water