Farm WRM 500ml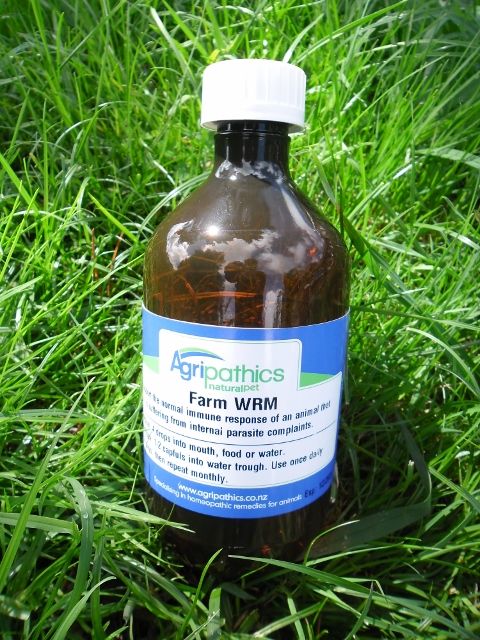 A natural worming remedy. Farm WRM is a homeopathic blend designed specifically to support the normal immune response of a farm animal suffering from internal parasite complaints.
Worms, internal parasites and other organisms will always be something that an animals digestive system will have to deal with. A healthy animal with the right diet, exercise and lifestyle will be in a better position to keep the resident population of parasites at a level that won't compromise their health. At Natural Pet we look to support the whole body and digestive system with our Farm WRM remedy.
All our remedies have been developed by a fully qualified Animal Homeopath.
Handmade in NZ. All remedies have a shelf life of 5 years.
500ml Bottle
We use pharmaceutical grade plastic bottles, so they won't break and tamper proof lids so they won't come off in the bike carrier box or when out and about on the farm.
All Agripathics remedies come in liquid form, as we find this is the easiest way to administer.
You can treat birds individually or at flock level.
Individually
Homeopathic remedies are best administered on to a mucus membrane, so given straight into the mouth, food or water.
Give 4 drops per bird once daily for 14 days.
Flock Level
This is best done by putting into their water trough, so putting 1 capfuls in their drinking water means each time they drink, they are getting dose.
How long will a bottle last:
Individual treatment: there are 1875 single doses in a 500ml bottle
Flock treatment: at 1 capful rate there are 72 doses per bottle
If you just have a few birds with a small water container, 4-10 drops will be all that is needed.
All instructions on how much to use and duration are on the bottle.
Caution: If this preparation fails to alleviate the condition being treated the user should seek veterinary advice.